Board Meeting for tonight 3/11/21 has been Canceled to a later date.
FTUSD letter regarding Governor's Executive Order 2021-04.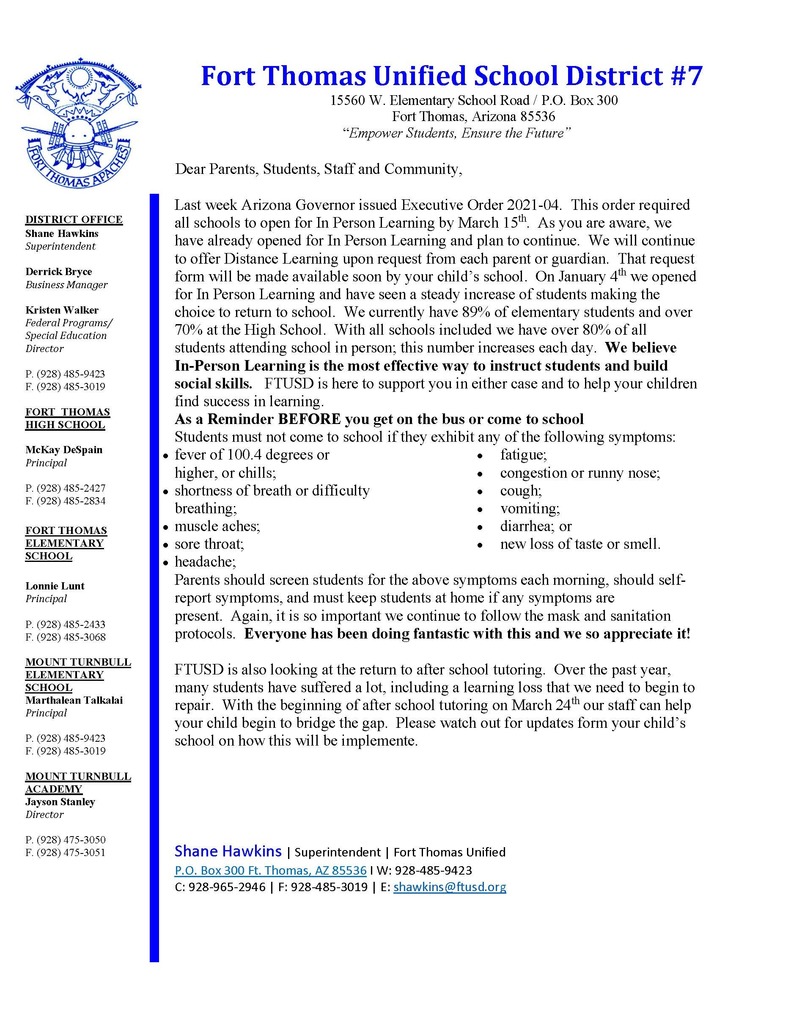 Fort Thomas School District will be applying for the new school year 2021-2022 Nita M. Lowey 21st Century Community Learning Centers (21st CCLC) If awarded the grant, we look forward to being able to provide academic interventions and enrichment activities for our students K - 6 during the school week. *More details will come if we are awarded the grant.
Power Outage in the Bylas area affecting Mt. Turnbull Elementary and Mt. Turnbull Academy. Students to be released at 12:30 pm today. Please contact your child's school for questions.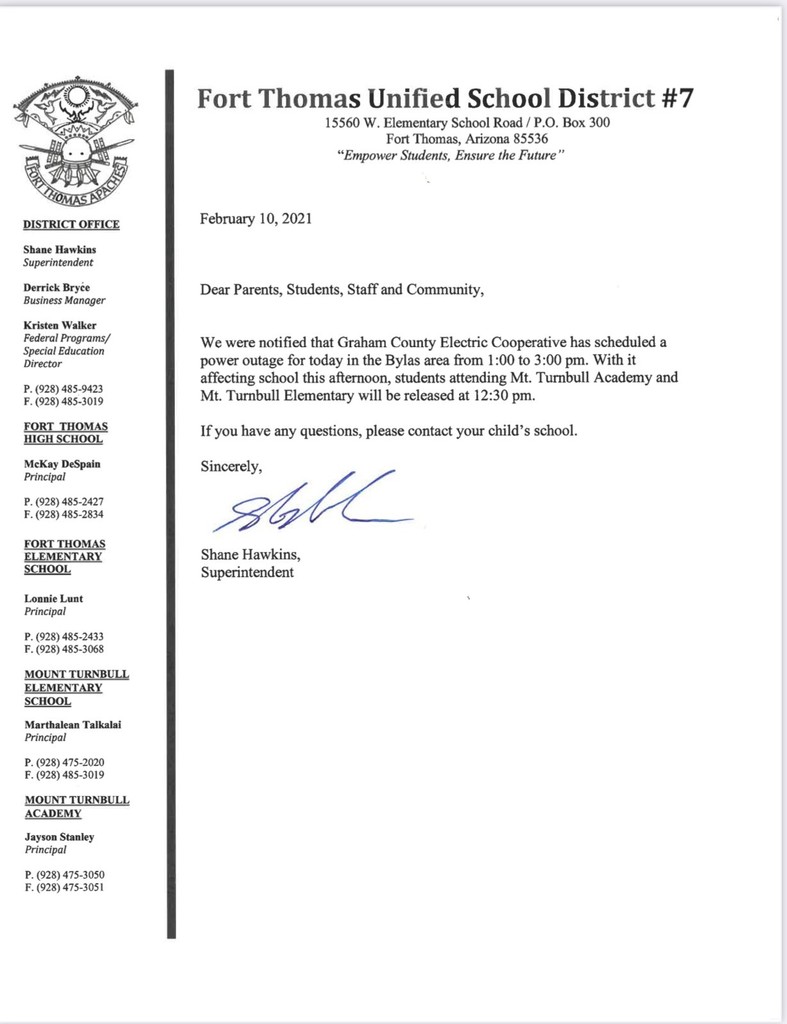 Indian Education Committee & Johnson O'Malley Meeting on Monday, February 8, 2021 in the Fort Thomas High School Auditorium at 1:30 p.m. Parents welcome.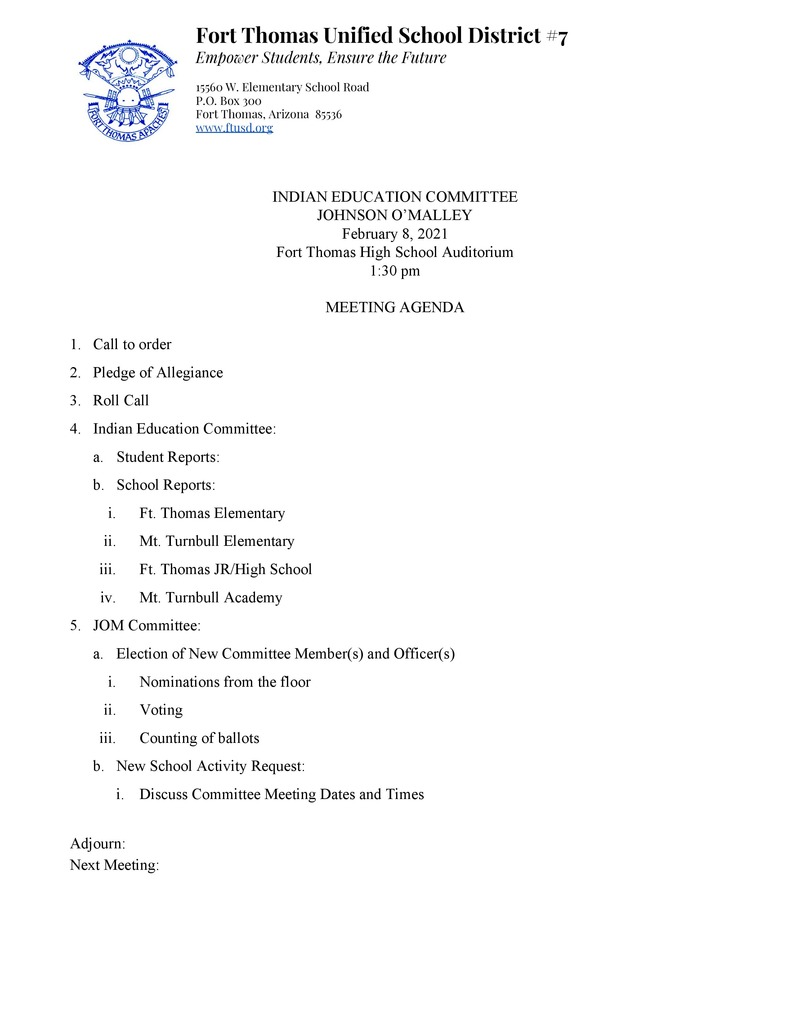 Food distribution starting 2/1/21. Please call the school if you have any questions.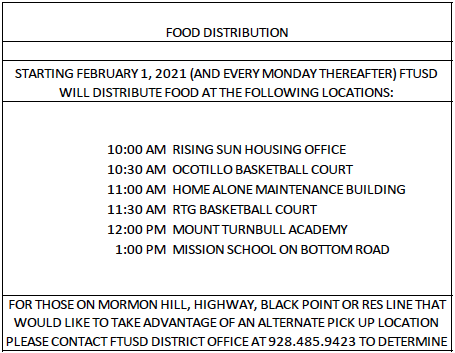 Parents/Guardians: We are excited to offer you the opportunity to help us look for ways to improve. We are asking you to complete the survey that is attached. This is anonymous survey. We ask that you complete a survey for each child you have attending - either In Person or in Distance Learning. The survey will be open January 11, 2021 to January 28, 2021.



We're thrilled to announce Fort Thomas Unified School District's new app! Access cafeteria menus, news updates, even emergency notifications. Download the app on Android:
https://bit.ly/35ewsYi
or iPhone:
https://apple.co/3eT2Cfn
.

Join us for the JOM meeting on 12/14 at 1:30 at the FTHS auditorium.

Our next regular governing board meeting will be December 10, 2020 at 12:00 at the FTHS auditorium. You can view it on the FTHS Media YouTube channel:
https://www.youtube.com/FTHSMedia
Welcome to Fort Thomas Unified School District's new website and mobile app!